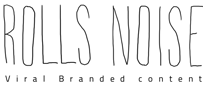 Rolls Noise is a creative agency of a new age... the digital age.
This core idea of this creative agency is to create branded contents that go viral, really viral as you will see the viral spread of the portofolio below of their founder Romain Pergeaux.
Let's have a closer look on some of their creative contents...
The famous Carlsberg + Mentos, as some of you know I was responsible for the seeding of this content.
Up to 10 million views on the Web
Up to 50 million views on TV
Up to 20 international TV broadcast!
(Canal +, New year's zapping, TV shows, etc...)
Up to 500 000 facebook shares
Up to 2000 blog posts
Lots of media press coverage.
8th viral of the year 2007 by Campaign Magazine UK
The amazing world tour in 80 seconds for Sony, this viral video has done a world tour as well
Up to 3 million views on the Web
Up to 30 million views on TV
Up to 15 international TV Broadcast : LCI, Direct 8, Canal Jimmy, Effet papillon (canal +), zapping (canal+), Public Japonese TV, US TV...
Up to 10 000 blog posts
Up to 200 000 Facebook shares
Up to 100 000 tweets
And the last but not the least, Raymond 2 (Domenech) playing Poker for Bwin

As this one has been launched only 2 days ago, it's a bit to early to stop counting but so far the video has reached over 500,000 views without including duplicated players and has been on French TV such asFrance 2 or Canal+ (le grand journal and les guignols) or Eurosport + Radio (Europe 1, France Info)...
It's only the beginning from Rolls Noise so be ready for more surprises!