From 6 May to 5 October 2010, the French automotive brand Peugeot is inviting Internet users to give them their ideas for the car of tomorrow on the new interactive website www.new-peugeot.com.
I have myself been invited and paid by Peugeot thanks to Buzz Paradise to be a jury of the competition and will vote for the best project you will submit...
Of course it's a competition and there are a lot of presents to win!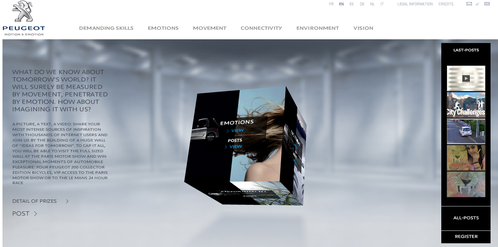 So, you are welcome to share your ideas (in photos, texts and videos...) according to 6 categories:
Performance: share your best sporting moments to win a VIP week-end at the Le Mans 24 hour race.
Environment: share your most environmental thoughts to win Peugeot 200th anniversary Collector's Edition bicycles.

Emotions: share your best knowledge of creative design to win a road-test of the new Peugeot 508.

Movement: share your best exciting experience in the city to win MU by Peugeot mobility units.

Connectivity: share your vision of unlimited connectivity to win a customised iPad.

Vision: share something out of the box to win a VIP preview of the Paris Motor Show.
The best accounts shared in this space will be re-edited and posted on a vast Peugeot Inspiration wall during the Paris Motor Show from 2 to 17 October 2010.
Please feel free to post your link to your project in the comments
You can have a look on the new Peugeot video to get some inspiration for this competition!
Advertiser: Peugeot