Have you already dreamed about becoming a xxx porn producer?
It's now possible with mydorcel, the first platform created by the Dorcel porn producer family to buy shares on a porn film production.
The concept is similar to mymajorcompany for music production.
If you like a scenario, a pornstar casting, you can bid money on it by buying shares to become xxx producer with only 20 euros.
If the film is performing well, you will even earn money from it!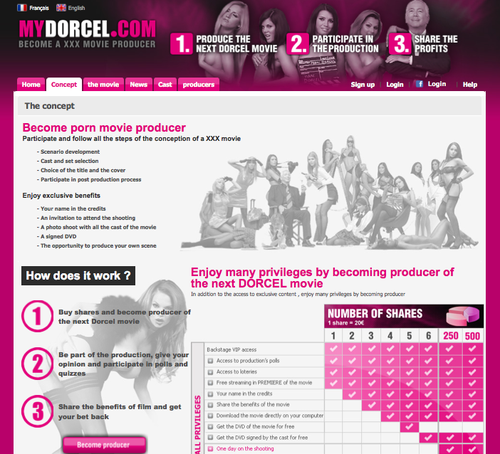 As you can see on the table below there are different level of investments.
With 20 euros, you will be able to get:
- Backstage VIP access
- Access to production's polls
- Access to loteries
- Free streaming in Premiere of the movie
With 40 euros you will get all the benefits above plus:
- Your name in the credits of the xxx film produced
With 60 euros you will get all the benefits above plus:
- share the benefits of the xxx movie
With 80 euros you will get all the benefits above plus:
- download the movie directly on your computer
With 100 euros you will get all the benefits above plus:
- get the xxx DVD of the pron movie for free
With 120 euros you will get all the benefits above plus:
- get the xxx DVD of the pron movie signed by the pornstars
With 5,000 euros you will get all the benefits above plus:
- one day on the shooting of the pron movie
- a photoshoot with the whole cast (all pornstars) for free
- your name as a co-producer next to Marc Dorcel
- a diner with Marc Dorcel and his team
With 10,000 euros you will get all the benefits above plus:
- produce your own porn scene