The web is hosting tons of files and sometimes it's difficult to find what you are looking for. Fortunately there are today some good search engines dedicated to files search.

So the first question is: are you looking for files? If yes, here is a good solution for you.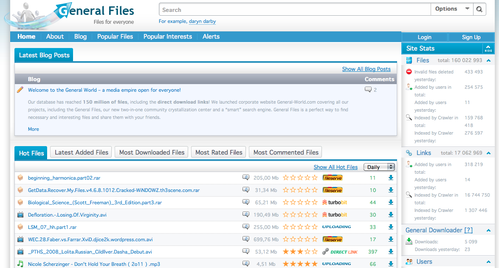 General Files is crawling a database with more than 150 million of files. I know that's huge! Thanks to the menu you'll be able to identify easily the most popular files and the most popular interests of users searching files.
A very convenient service named "alert" allows you to set up an email alert on a specific request. Every time a new file corresponding to your request is uploaded on the domains crawled by General Files you'll receive an email alert. This is pretty clever to be sure not to miss what you are looking for.

This files search engine is indexing archives, audio, video, docs, pictures, applications, CD,DVD. You can finetune your search request thanks to the files formats filter or date filter or files size filter.

Of course you can download videos for free as the search engine is indexing all files from megaupload, rapidshare, 4shared, hotfile, letitbit, fileserve and uploading websites.

Enjoy your files search.