Since Google has released the social network Google Plus, if you have more than one gmail account, you always have to switch account for login permission. This is very annoying. The reason is coming from the fact that Google has now turn by default the multiple account off. So you just need to turn it on. Here is how to allow the multiple account to work with google plus, gmail and even google docs.
Step 1: go on plus.google.com and click on your account name at the top right

It will expand a menu with the Account Settings link. Click on this link
Step 2: As you can see the multiple sign-in function is off by default

Click on edit next to the multiple sign-in
Step 3: Tick the box On - Use multiple Google Accounts in the same web browser.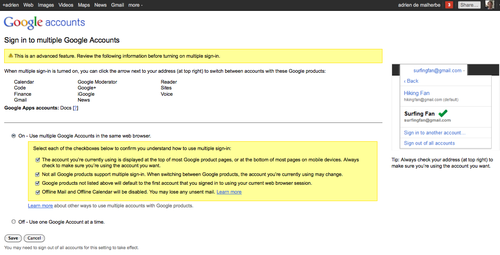 Tick the 4 boxes below and then save!
Now you should be allow to log in with multiple accounts without log out.