Following the terrible catastrophe, the earthquake in Haiti,you can already find online a ton of articles about how to help Haiti when searching on Google.
The online strategy around the Haiti earthquake is a question of reactivity. All the charity asociations are competing in raising funds to help Haiti.
The most reactive charity have bought the key word "help Haiti" on Google UK:
www.oxfam.org.uk/
haiti
www.christianaid.org.uk/
Haiti
Appea
www.msf.org.uk/
haiti
.focus

The hastag
#Haiti
or
#HelpHaiti
are booming on twitter.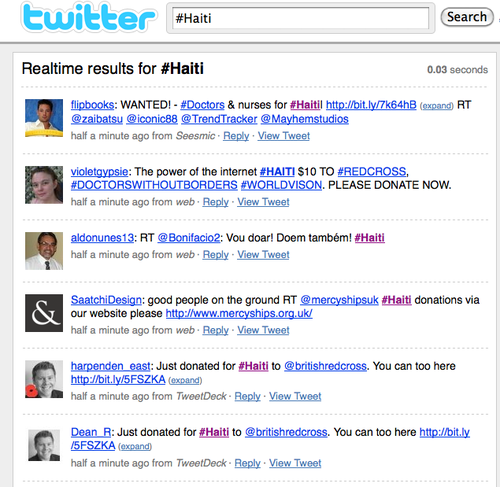 Some domain names have already been bought such as:
helphaiti.com
donatehaiti.com
givehaiti.com
But these domain names are still available (for how long?):
help-haiti.com
donate-haiti.com

Let's hope no one will use this catastrophe to create a scam and drive donations to his pocket...

You can safely give with
the
Google crisis response
for Support Disaster Relief in Haiti.