Downtweet is an amazing tool for Twitter lovers. It allows you to get a real online dashboard for your Twitter activity.
Twitter can start to be messy when you're following to many accounts, that's why Downtweet can help you to organise all these twitter feeds and get the best of Twitter.
Thanks to a very intuitive interface Downtweet is simple and quick to use. Just sign up with your Twitter account and you can start to add Twitter feeds in columns.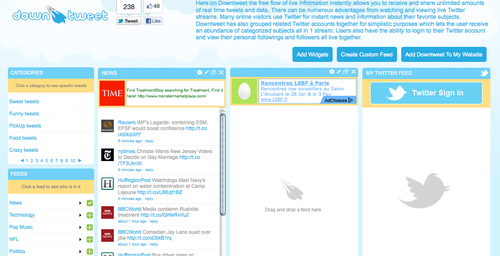 At the same time you can keep an eye on hashtags you're following and your own Twitter activity and your followers' activity. This is very convenient. Downtweet goes further by adding cool features such as Sweet Tweets, Funny Tweets, PickUp Tweets, etc... Tons of categories are available to browse Tweets in a new way.
Some topic feeds are ready to be added in your dashboard. Downtweet is selecting the best Twitter feeds in News, Tech, Music, Business, Politics, etc... A great way to discover new hot topics and be sure not to miss any relevant info.
Oh by the way I forgot to mention something very very cool: Downtweet is free!
So don't wait to be flooded under Tweets to use this awesome tool!