Want to make 1 million free views on Dailymotion in a week? That's easy when you're cheating!
Following Aziz
post
, it's really easy to cheat the Dailymotion view counter to generate 100,000 views on your video.
You just have to refresh the page as 1 view on Dailymotion is counted for each impression.
Thanks to this firefox
plugin
ReloadEvery,
you will be able to refresh your page every 5 seconds automatically as you can see below.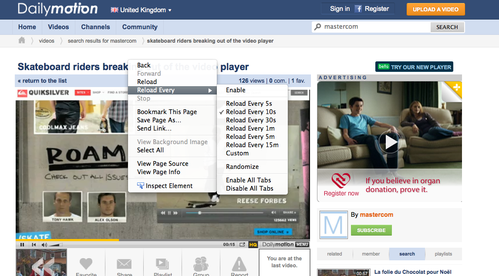 It is working. In 24 hours with the refresh every 5 seconds you will generate 17,280 views with one computer, so with 6 computers you can get +100,000 views in 24 hours.
So it means you will appear on the top video of the day and you start to get real views on your video and it will be aggregated by websites!
Want to do the same hack on Youtube? Here the
tutoria
l to hack youtube and get 100,000 free views in 24 hours.