According to the twitter account Buyyourtweets:
1 tweet = 1 ad. $100 per tweet.
For each sale, I keep $50 for myself and I give $50 at random to 1 of my followers.
For more info & to buy a tweet click above! http://buyyourtweet.tumblr.com/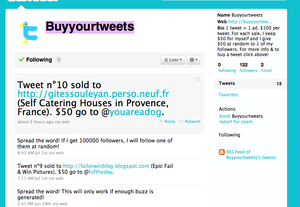 So why do I think it's fake?
Buyyourtweets is pretending to have already sold 10 tweets (for 100$ each) for a twitter account with only 122 followers and is claiming to have shared with these 10 followers below the money (50$ gain for each).
But if we have a closer look to these happy winners, their accounts seem totally new and suspicious. Very few followers and almost no tweets...
Why would an advertiser (one more time you can have a look on the prentended advertiser, sites look weird) pay 100$ for a tweet on an account with only 122 followers when he can get for 2$ a sponsored tweet with sponsoredtweets.com on a twitter account with 5,000 followers???
Probably the guy behind Buyyourtweets thinks he will create the buzz and gain a maximum of followers who think they can probably earn 50$ (but it won't happen). Then when he will have enough followers he will hope to attract real advertisers and make real money...
What do you think guys?