Socialkik allows you to grow your twitter followers or facebook fans on your fanpage by buying them!
It's pretty easy to start with them. You just need to go on their website Socialkik and select the plan you want to buy.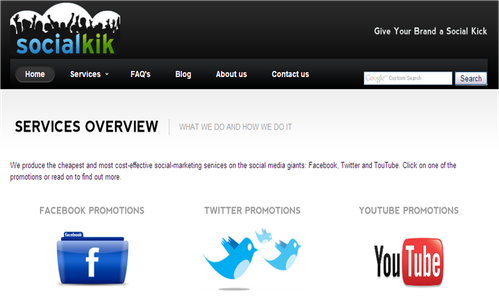 For example 1,000 non targeted facebook fans will cost you $60 and it will take 14 days to get them.
If you prefer targeted fans it will cost you a bit more obviously. You can buy up to 50,000 facebook fans for $1,000 but you will need to wait 8 months to get them...
As you will notice a facebook fan is more valuable than a twitter follower and seems to be more expensive to acquire.
Indeed, Twitter followers are much cheaper as 100,000 followers will cost you only $700 but will take 1 year to deliver.
It's interesting to see that some company now are selling these social media contacts as a real assets and are evaluating the cost of a twitter follower or a facebook fan.
Website: socialkik.com