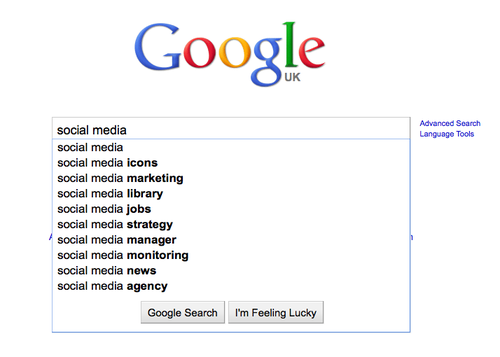 According to google search there are 9 main requests for Social Media:
1. Social Media icons
I guess this query is popular amongst blogger and website editors looking to add social bookmarks on their sites.
2. Social Media marketing
All marketing professionals want to know more about this new discipline. This excellent blog can help them.
3. Social Media library
It's the best way to become an expert in social media, have a look on this report from the social media library
4. Social Media jobs
This sector is growing and obviously recruiting more and more high profile social media expert. You can have a look here for job offers.
5. Social Media strategy
A simple presentation about what is a social media strategy
6. Social Media manager
What is a social media manager? And how to become one? here is the answer.
7. Social Media monitoring
To monitor social media, you need tools like trackur.
8. Social Media news
Of course the best source is Mashable
9. Social Media agency
A good start will be to meet with wearesocial agency.