When it comes to viral marketing, agencies, advertisers, students or even a larger audience have some specific requests as we can track thanks to Google suggest function.
Apparently there are 9 top search keywords associated with viral marketing on Google.
If we consider that people searching for viral marketing examples, viral marketing campaigns and viral marketing campaign are looking for the same results, it lets us only 7 things people want to know about viral marketing.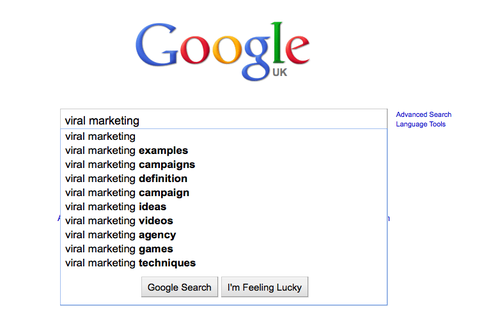 1. People need to know what is the viral marketing definition.
Here is my short definition: The viral marketing is a communication process that is using the audience of the message as a medium.
Here is the wikipedia definition if you prefer:

2. People want to see some concrete viral marketing examples for real campaigns.
A good start will be to read blogs about viral marketing like mastercom, brainstorm9 or disruption.
3. People search viral marketing videos because it's entertaining as well.
Check illegal advertising to understand it.
4. People are looking for viral marketing ideas to get some inspiration for their own campaigns.
Bliss blog can help in that case
5. Advertisers, admen and students are searching for viral marketing agency for business or job purposes.
The viral factory is probably the best creative agency when it comes to viral video campaigns and goviral the best partner to distribute and seed your viral content.
6. People knows how much entertaining could be viral marketing games.
Keep an eye on the ViralChart to know what are the benchmarks for viral games. Sometimes these viral games can even be hidden in a video like here.
7. The marketing professionals with huge advertising budget or the young creative with shoestrings want to know all the viral marketing techniques.
The best is to follow the 7 viral marketing techniques to produce viral content.