Maybe you have noticed on the top of this post a "connected" button...
Let me explain you what it is:

SmallRivers is a new technology that allow you to create rivers for your blog's topics.

First of all you need to create an account here, it takes literally 1 minute.

Once you're done, you just need to log in as below.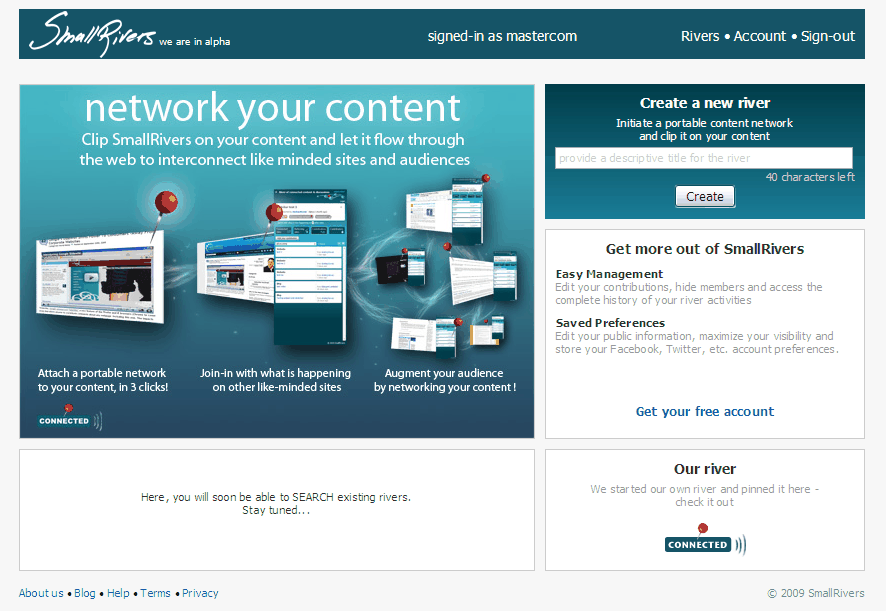 Then, go on the right column and type a keyword, a trend, a topic, a brand name that you are interested to share and to follow with all the SmallRivers users.

I have done the test for this post with the keyword "network". So it will tag this post under "network" on the SmallRivers website.

The platform is generating an HTML code that you will have to embed on your post to activate the tracking as you can see below.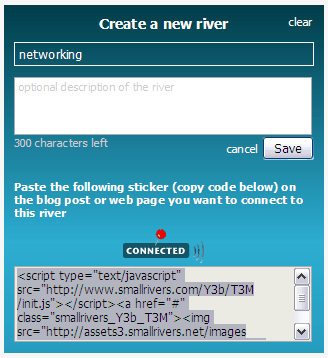 It means that now users that want to follow what is happening on the river for "network" will see this post.

Additionnally your content will become portable and feed the network that has selected the same keywords in their rivers.

So to conclude, I would say that this new tool is a great advantage to create traffic to your blog or site and to keep an eye on what is happening about your selected tags.

So to recap, there are 2 main useful functions to me:

- 1 from a pulisher point of view that will help to grow my audience and the power of this tool will increase with the size of the network it will recruit

- 1 from a professional point of view, to monitor a brand, topics or a content diffusion.