20 July 2009 - Goviral, Europe's leading distributor of branded content, announced today the public launch of goviralnetwork.com. The self service platform provides publishers and bloggers with a fully automated centralized destination to access branded video content.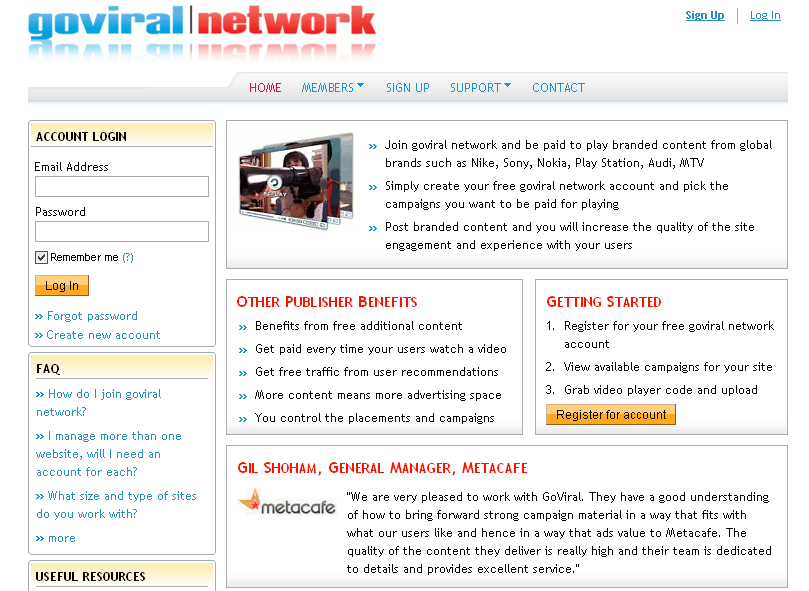 Thomas Sevége, Vice President of Publishing at Goviral says "Brand's are realizing that they need to be where their audiences are consuming and interacting with media. Each month Goviral distributes up to 100 branded campaigns globally and goviralnetwork.com allows publishers to find the right content for their users. ''
Through goviralnetwork.com, publishers can choose the most appropriate branded content for their website audience. Any publisher can apply to goviralnetwork.com, for each user initiated video play the Publisher will earn a fee which is calculated in real time.
"Publishers who have joined goviralnetwork.com already see the benefits of offering less intrusive advertising formats, with strong entertainment values for their users," said Thomas Sevége. "Our unique position in the market enables publishers and bloggers to access content created by many of the world's largest brands while earning significant advertising revenue''
Goviral distributes up to 100 branded campaigns globally each month.
Publishers and Bloggers can access performance statistics in real-time via Goviral's proprietary technology and receive instant alerts about new campaigns and content. Payments of advertising revenues are automatically executed by goviralnetwork.com every month, in any currency.
About: Goviral distributes branded content such as TV commercials, virals, long-form video, games and widgets to places where people meet on the internet - creating high-volume, targeted, cost-effective and performance based branding campaigns. Our brands' content has reached over 100,000 publisher destinations in the last 12 months. Goviral operate in 80 countries, distributing content in local languages, on local sites and with local publishers. Founded in 2005, with offices across the UK, France, Germany and Denmark, the company is privately held. For more information, please visit www.goviral.com