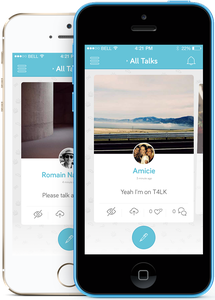 T4LK is a fun iOS app that allows you to talk for your friends.
It's pretty easy to use:
First you need to download the T4LK app and sign up with facebook connect.
Then you need to invite some friends on T4LK to be able to create talks with them as talkers.
Select your talker, add a funny picture and a description and share it!
Your friends can comment and like the talks but they will never be able to talk under their name.
As you can imagine this is creating pretty hilarious content!